CRYSTAL Septic Tanks
CRYSTAL - Traditional two stage Septic Tanks supplied by WTE
IMPORTANT UPDATE: Condor have changed the design of their septic tanks. They now have only one turret in the centre of the tank. Although this enables access to both chambers for de-sludging, it does NOT allow the fitting of septic tank filters on the outlet, or blockages to be cleared at the 90 degree bends on the inlet and outlet pipes. As these blockages occur with all septic tanks from time to time, we have commissioned NEC to continue making their original septic tank design specifically for us. We market them under the brand name 'CRYSTAL' septic tanks.
Crystal Septic tanks are not the 'onion' type. They are manufactured with two chambers - the same design as the old brick/block septic tanks - offering primary settlement of wastewater and sewage and then allowing further settlement in the tank before discharge of treated material to a soakaway. These 2 stage tanks, although more expensive to manufacture, give much better effluent quality than 'onion' types for the following reasons :
Benefits of the two chamber septic tanks
There is a much greater distance between the inlet and the outlet, preventing untreated effluent from 'taking a short-cut' across the tank.
There is much greater wastewater/air interface in the tank, ensuring at least some aerobic digestion and reducing the BOD of the final septic tank's effluent. This means that the effluent is less septic and polluting. We have recorded only 40mg/L BOD from a 2 stage septic tank, wheras an 'onion' one gives around 200mg/L.
Because of the vastly reduced effluent BOD, they are far more suitable for reed bed systems than 'onion' shaped tanks.
There is a much greater base area for septic sludge settlement.
WTE Septic System Suppliers throughout the UK
We like these
Septic Tanks
so much that we are prepared to sell them at the same prices as cheaper 'onion' design.
Prices
2800L £783.00 2800L pdf download
3600L £890 00 3600L pdf download
4500L £923.00 4500L pdf download
All the above prices are plus VAT but include delivery, 1 metre neck extensions, covers and frames.
Onion shaped septic tanks are not popular anywhere in the World apart from the UK as the effluent tends to be highly septic and of poor quality.
Septic Effluent can ONLY be discharged to a soakaway. If any septic effluent leaks into a watercourse, serious pollution occurs and you will be liable for prosecution, fines and possible imprisonment, see wastewater legislation.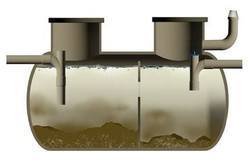 Key Features of Crystal Septic Tanks
Better quality of septic effluent than that obtained from a 'onion' tank

Much shallower and easier installation - only 1.65 metres below ground level for the standard tank.

Neck extensions are available for deep inlet/outlet requirements. They are 1 metre long and should be cut to the required height.

Available from 4 to 40 persons.

Choice of tank inlet and outlet pipework configurations

Ideal as the choice for a 'trash tank' as the lower BOD in the septic effluent helps to develop a healthy aerobic bacterial colony in the following sewage treatment plant.

Please read Tank Delivery and Off-Loading Information before ordering.
Choose Crystal Septic Tanks