Settlement Tanks for the FilterPod Sewage Treatment Plant
The FilterPod uses two separate stage of settlement prior to the FilterPod unit itself. These are FilterPod Settlement Tanks.
The are installed along with the FilterPod, in the same hole and at the same depth, to make installation easy.
The first tank settles out large solids and the second tank settles out the finer, smaller solids.
There is a DrainX filter on the outlet of the second tank, to further prevent tiny suspended solids from leaving the tank.
Tech Specs for the settlement tanks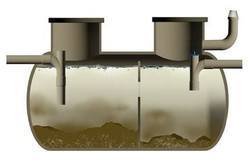 It is sometimes possible for an existing 2 stage septic tank to be used as the settlement tank stages.
In this case, the tank would need to be the correct size, be watertight and have an airflow at the top, between the chambers, is in the drawing here.
Please contact us to make sure that your existing tank is suitable, or if it can be adapted to be suitable, before you buy the FilterPod add-on septic tank conversion unit