Sewage treatment plants are primarily and in many cases, exclusively, designed for domestic family houses, not large houses where wastewater treatment systems are underloaded. These are, typically, larger, 4 bedroomed houses, with only 2 people living in them.
Almost all sewage treatment plants are only designed to go down to 50% of the size of the plant, meaning that a 6 person plant, needed for a 4 bedroom house, must be used by a minimum of 3 people. This is in order for the bacteria to receive enough 'food' from the sewage per day. They are only tested down to 50% for their EN Certificate, so there is no data available for them for lower percentages, and in many cases, they don't work.
We manufacture 3 different types, each one designed for different situations to cope with this problem.
A sewage treatment plant that is connected to a normal house lived in by full-time residents who are responsible for the plant, is the ideal situation for any sewage treatment system. It has a stable flow rate of sewage into the plant and the concentration of pollutants is relatively stable as well.
We have resolved the underloading problem by producing our Vortex sewage treatment system, which is easily adjustable, by hand. This allows it to work even if only one person lives in the house.
It has been EN Tested down to 10%, with no reduction in the performance, when turned down to the correct level.
It is ideal for normal residental use, where the family only leaves the house unoccupied during holiday periods and not for months at a time;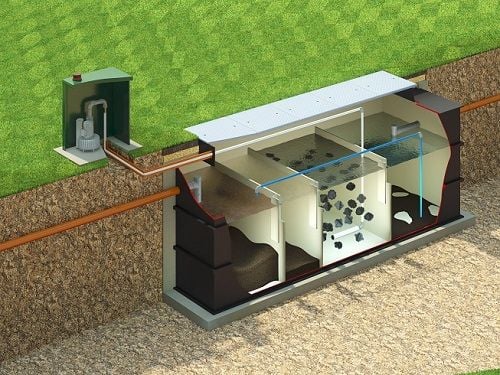 However, not all houses are lived in on a permanent basis. For holiday homes, second homes, sporadic letting properties, etc. a Vortex may still be the answer, depending on the circumstances. However, an APEX sewage treatment system or a non-electric FilterPod treatment plant may be a better choice, if the flow rates are sporadic over a long period of time, or if the absences are longer than 2 to 3 weeks at a time.
The APEX does need full occupancy with higher numbers of people when it is in use though, to 'Stock-up' the larder, so to speak!
FilterPod sewage treatment plant
The FilterPod is ideal for weekend cottages, sporadic letting or 2nd homes, as it can not only cope with sporadic use, but also with very little occupation when it is in use.
It is ideal for off-grid homes.
All our sewage treatment plants are designed to be able to discharge the clean water into a watercourse, if desired.
Please ring us to discuss the suitability of a system if you have this issue.