Failed Soakaway Drainfield Insurance Claims
Failure of the soakaway drainfield is the most common cause of septic tank system failure.
All soakaways fail eventually through natural causes, but there are some soakaway drainfield failures that may be covered under a householder's Buildings Insurance Policy, if the policy includes accidental damage.
WTE are experts on drainage fields, their problems and solutions and we will handle your claim for you, from your first phone-call to us to the final settlement from your Insurers.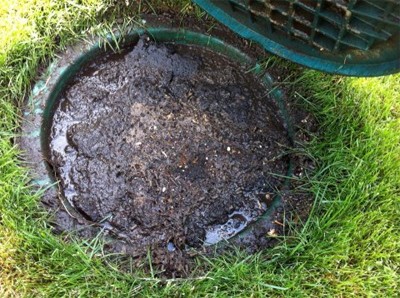 A failed soakaway drainfield causing a complete back-up in the septic tank and drains.
Examples of some soakaway drainfield issues that we have been successful with:
Root damage to drainfield pipes and connections
Vehicle damage over the drainfield
Damaged T pipes in the tank itself
Damaged and collapsed baffles
Rising local groundwater levels
What is not covered:
Soakaway drainfield failure due to lack of maintenance and emptying of the septic tank.
Poor drainfield installations that do not comply with the appropriate Building Regulations at the time, or the BS 6297 2007
If you are having problems with your soakaway drainfield, please contact our Claims Department - James Webb on 01759 369915 for advice on the possible validity of your claim.