Failed Sewage Treatment Plant Insurance Claims
Many sewage treatment plant failures can be claimed on a Buildings Insurance Policy.
The Policy must include accidental damage cover and the problem must be a result of accidental damage.
Examples of successful claims are:
Root damage to the tank itself
Root ingress into the tank
Cracked and/or bending tanks
Baffle distortions and failures
Internal pipework damage
Tanks that have risen up due to groundwater
Plants that have been damaged by vehicles or livestock
Localised ground movement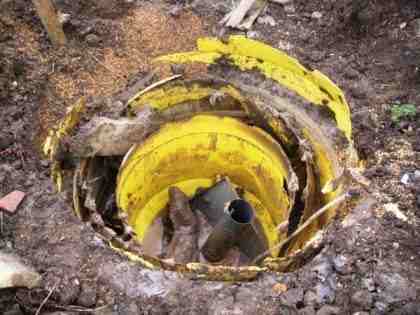 A tractor ran over the top of this Conder ASP - a DEFINITE Insurance claim.
What is not covered:
Problems and failures caused by a complete lack of maintenance (servicing) and/or emptying.
Poor installation that results in the plant not working properly or being damaged.
Do NOT contact your Insurance company direct as it is very easy to say something that invalidates your claim!
Contact James Webb at WTE Ltd. on 01759 369915. We will advise you as to your chances of having a successful claim and will handle your claim free of charge.