Sewage Treatment Plant Maintanence
Sewage Treatment Plant Servicing, Maintenance and Repair
A sewage treatment plant service costs from £75.00 for a 6 person system. Tel. 01757 289681 (Sapphire Environmental Ltd. Accredited Sewage Plant Service Engineers.)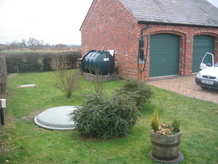 Sapphire services all makes including Klargester, Titan, WPL, Conder, Bio Pure, PureFlo, Biorock, Allerton, Acorn, Uni, Ensign, Entec, Moduline, etc. They are the sole UK maintenance engineers for BioKube and their service engineers are British Water Accredited.
A sewage treatment plant can solve many sewage disposal problems when no mains sewer connection is available. We can survey your individual site and advise whether a septic tank or a wastewater treatment unit would be the most suitable. There are always many factors to consider and from our experience we normally find that several different schemes can be considered.
Correct servicing also ensures that your treatment plant operates at its best, protecting the soak away system or watercourse at the point of discharge.
CORRECT SERVICE AND MAINTENANCE RECORDS FOR SEWAGE TREATMENT SYSTEMS ARE INSISTED UPON BY THE ENVIRONMENT AGENCY AND FORM A CONDITION ON THE DISCHARGE PERMIT.
Whatever sewage treatment system you install will require regluar servicing by a trained Sewage Treatment Plant Service Engineer, according to the manufacturers instructions. Systems which are not serviced regularly POLLUTE our streams and rivers and lead to prosecution by the Environment Agency. Please see the disaster photos on our sewage reports page.
Full Sewage Installation service available, including gravelless soakaway systems as in the photo. Please ring for a quote.
ALWAYS insist on seeing the Service Engineers British Water Accreditation card.
NEVER ALLOW UNQUALIFIED PERSONS TO TAMPER WITH YOUR SEWAGE TREATMENT PLANT!
Services for sewage treatment systems start at £120.00 depending on the type of unit.